Shoot first, ask questions later. That's a bruiser!
Bear huntin is one of my passions. Im hopelessly addicted to it. I don't get the bonus if being able to use bait or dogs, cause Oregon votes with the "left coast" & the other 90% of the state doesn't count. Spot & stock Spring bear presents way too much hassle where I hunt, & its a crap shoot at best. I'm jealous
I fall bear hunt when the wild plums are ripe, & huckle berries are almost gone. Great flavor in the meat, & coats are uniform & thickening up for winter.
Ive smoked quite a few bruins, but I tell you what,
If a bear that size was anywhere in the area I hunt, & I had a tag in my pockett, id be setting my sights on him. That's a dandy even being all rubbed off on the back end. I'm guessing 19 inches & about 340 ish lbs.
Now you gotta go shoot that big ol bugger so I can see if I'm right
Saw your blonde bear on your other thread. Good lookin critters. Congrats!! I'm real jealous now
__________________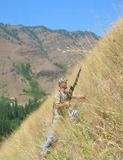 "Its not Rocket Surgery.....'
GOD,GUNS,&GUTTS MADE AMERICA, LETS KEEP ALL 3!winmag
"I have No idea why that cop made me ride in the back seat, when I Clearly called Shotgun!"