Re: Black Bear self defense handgun/rifle
---
Quote:
Originally Posted by
Chas1
winmag, when you say-but for some reason, when the heat is on, I'm zoned, Im relaxed, and shoot better than when I have to think about things, as long as Im confident with my gun before hand.

The reason may be that you've practiced alot with that gun and have the motor skills so it happens and works well naturally versus when you think about it. I've experienced this myself with a handgun I regularly practice with and if I just shoot I'm better but start thinking about everything too much and shooting goes to crap. I don't know just a thought.
Nialed it Chas. Im by NO means what I consider good with a handgun. But Im confident enough in my ability to put rounds on target it a timely manner. The only thing that puts that confidence there is a ton of practice, and alot of playing around (a.k.a. fun practice) ''betcha cant hit that sage rat..........'' kind of fun practice.
For me, just like any other tool, the more you use it the the better you get untill it becomes second nature. In crunch time it pays off.
__________________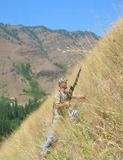 "Its not Rocket Surgery.....'
GOD,GUNS,&GUTTS MADE AMERICA, LETS KEEP ALL 3!winmag
"I have No idea why that cop made me ride in the back seat, when I Clearly called Shotgun!"