Re: Bears Feeding Frenzy !
---
WAAAAAAAHHHHHHOOOOOOOO! I dont realy know that there is a gun made to get you out of that situation. But its a ''whale'' of a way to see if youd win, or check-out in the process. I dont know what Id do with all the meat hydes and skulls. Those bears would probably taste HORRIBLE! Not to mention the work to be done skinning/packing/.......WOW
__________________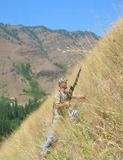 "Its not Rocket Surgery.....'
GOD,GUNS,&GUTTS MADE AMERICA, LETS KEEP ALL 3!winmag
"I have No idea why that cop made me ride in the back seat, when I Clearly called Shotgun!"