Re: bear dens
---
Look around for large trees nearby with deep claw mark scratches in them. If there's trees marked like that, then you may be onto something. However its pretty darn early for a bear to be near a den, so the grass being gone....? I dunno..... If it was 2-3 months from now, then oh ya.

Obviously something is using it, so be carefull. Maybe set up a trail cam.
__________________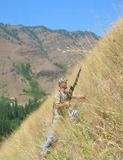 "Its not Rocket Surgery.....'
GOD,GUNS,&GUTTS MADE AMERICA, LETS KEEP ALL 3!winmag
"I have No idea why that cop made me ride in the back seat, when I Clearly called Shotgun!"