Quote:
Originally Posted by
kraigwy
1-The SSTs have been known to shed their jackets and this with fixed with the Interbond.

2-Just keep them seperated, the look just a like. Easy to get them mixed up.
1-Same concept as the Nosler Balistic Tip, & Nosler Accubond. The difference is that the Accubond is readily available, where-as the Hornady Innerbond is not.
2-The SST has a canelure ring, the Innerbond does not. Virtually impossible to mix them up if your paying any attention at all, while at the bench.
-Nosler Balistic Tip is colored per caliber (green, yellow etc.) Accubonds are all white tips no matter the caliber.
__________________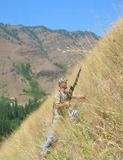 "Its not Rocket Surgery.....'
GOD,GUNS,&GUTTS MADE AMERICA, LETS KEEP ALL 3!winmag
"I have No idea why that cop made me ride in the back seat, when I Clearly called Shotgun!"