Re: Mustangs & Elk
---
Don't know bout wild horses, but cows definitely push most wildlife out or at least to the edges of thier grazing, & noise. Ive been moving cows since I was in diapers. It's definitely a pattern, BUT not a hard & fast rule. If you salt the hills, (& I'm talking 14,000 acre pastures with sagebrush, & juniper -or cedars as our southern buddies call it- with 300-350 pair, & about 30+ bulls) forcing your cows to graze the entire hill, & keep up on moving your cows out of the creek bottoms etc. the wildlife tends to stay around a bit more. Depending on the weather, & how hard you grazed a parcel of land, & depending on pressure from neighboring places etc. all dictates how fast the critters settle back in when your cows are gone. I'm also guessing geography has a lot to do with it. Last two times I was in Texas, I never saw a hill one that could be salted, nor any gullies, draws, or canyons to run cows out of. Flat as a pancake. But it had obstacles just the same. I've never seen thorn brush (or mesquite) so dang thick. I can't imagine moving cows without some dang good dogs in that country. So I can definitely see where results, & experiences may differ grately, strictly based on your geographic location.

Winter time is altogether different. I've chased Elk off hay I was still feeding to the cows from the back of a pickup.
I also watched a cagy ol cowhand fill his tag by taking a bucket of apples & coaxing some horses to walk with him out to the middle of a pasture so he was close enough to plug one with his ol .32 Winchester.

There are no hard & fast rules on it imo, but if I'm hunting an area & find livestock there I leave, or hunt the fringes. I don't waste my time in the middle of em.

Mustangs tend to rule wherever they're running, but usually aren't in one place too long. I could see how they could intimidate huntable critters out of an area for a short time.
__________________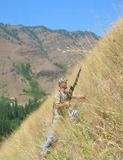 "Its not Rocket Surgery.....'
GOD,GUNS,&GUTTS MADE AMERICA, LETS KEEP ALL 3!winmag
"I have No idea why that cop made me ride in the back seat, when I Clearly called Shotgun!"
---
Last edited by winmag; 05-30-2012 at

07:00 PM

. Reason: added some.