WY Elk Area 1 (Black Hills) is prime. Lots of elk but the weather is better then, lets say the Big Horns, during elk season. Normally.
I got a nice bull last year but didn't get drawn this year. Had to settle for a left over cow tag in the big horns.
Turns out we had a freak storm in Eastern Wyoming. Last Friday my wife was up near Area 1 and says there is still 4 foot of snow, no way I could get to where I hunted last year. I'm sure the elk left, heading for the low lands on private land in other areas.
Anyway I headed for the Big Horns. Not too bad weather wise, perfect elk hunting weather in my mind.
So at the start of elk hunting in Area 1, (Oct 15) I'll setting by the fire. Wouldn't be able to hunt there anyway.
But I did get my a nice young cow, gonna be good eating.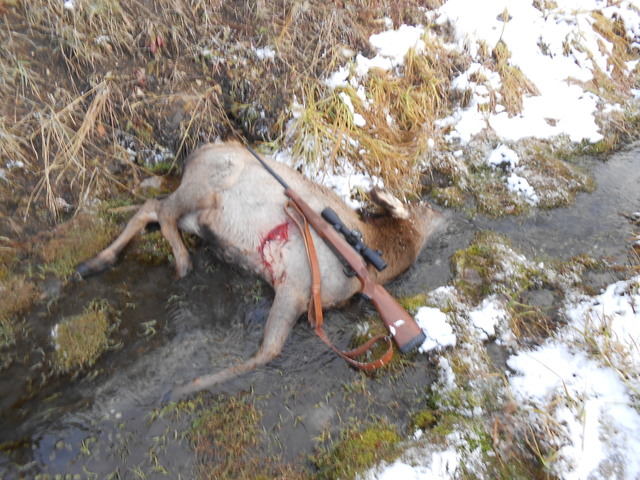 --------------------------------------------------------------------------------------------------
As a side note. A month or so ago Len sent out an e-mail advertising a Satellite phone. SPOT PHONE.
I'm kind of old, have COPD and a bunch of stints. My wife snivels because I hunt a lone in out of the way places. Actually in Wyoming once you get out of town you don't have Cell Service.
Wife insisted I get one. The phone doesn't cost much more then an I-phone, and the service is much cheaper then what I pay for my cell phone.
It works like a champ. There is nothing that resembles cell service in the Big Horns. Where I hunt there is a land line at the Bear Lodge, and a line of hunters wanting to use it.
With this Sat Phone I was able to check in with the wife every so often keeping her happy, and you know happy wives mean you eat well.
Also ran across a guy who just killed a large cow moose. He was older then me and needed to go back to the lodge to call home for help getting the moose out.
In stead I loan him my Sat Phone. He also was a happy customer. Got all the help he needed.
I know this isn't the spot for reviews, I'm waiting for Len to start a link so I can add my review.
If you hunt in remote area, especially alone, you should think about one of these phones. It also makes me feel better with wife is driving around the state in the winter. She can call me if she runs into a snow bank instead of hiking to a spot where she can get cell service.