Quote:
Originally Posted by
DanMan
Winmag,
Wow! That is special with 3 buddies all getting first bulls together is one explosion of gunfire. I'll bet yall had a great time getting them out and taken care of ......right?
UUUGGGGHHHHH!!!
Ya we had quite a bit of work to do. The rigs were at the top of the canyon about a 1/4 MILE from the rim. So the pack(s) up the canyon were hard, but the real work started when we got to the top. We actually convinced our buddies step dad Hal Laur (an ex sprint car racer) to beat the heck out of his rig and get as close as he dared. It looked pretty funny having that many people and elk in (and on) 1 rig. Considering 4 people and 3 ragg horns were wrappep up in and on an Isuzu Trooper. That poor little foreign car took a beatin! I dont think it lasted another year
We actually had to make 2 trips, cause we had to go back for the back seat, and all of the rest of our huntin gear that wouldnt fit in, or on the rig
.
It is some special memory for sure. And I have only been on 1 other elk hunt that was that easy in my life, and I wasnt the one hunting. I took a friend of mine for her first elk hunt and she shot a spike, with her recently deceased granpa's rifle, 40 yards from the pickup 15 minutes into opening day of spike season. We drug it downhill in the snow to my open tailgate backed up to a snow berm. Loaded it whole minus gutts. That was even harder for me to belive than my cousins, buddies and my first bulls all at once. Pretty awesome.
I have never since had an elk season that remotely resembled the ease of those two. The rest we had to work alot harder for
.
Great thread by the way. I love reading these story's. Kcebj's story had me cringing waiting for hooves to fly over my head just reading it! Wow! Pretty great storys so far. cant wait to read more.
__________________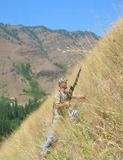 "Its not Rocket Surgery.....'
GOD,GUNS,&GUTTS MADE AMERICA, LETS KEEP ALL 3!winmag
"I have No idea why that cop made me ride in the back seat, when I Clearly called Shotgun!"