Gents
Here are some photos of my latest big game adventures: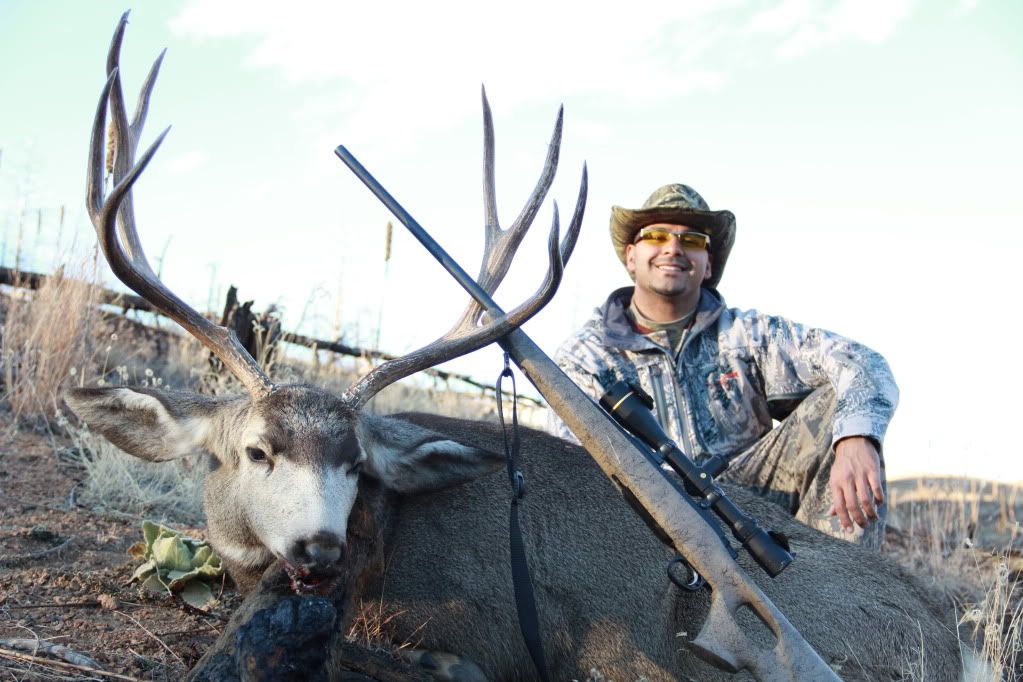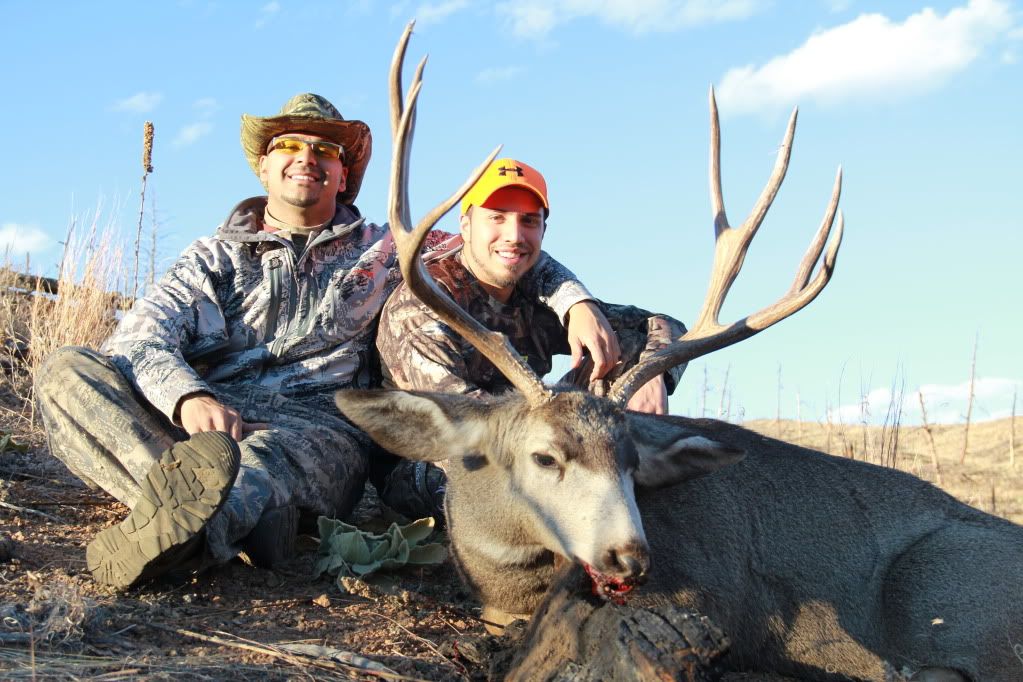 This is my 4th season muley buck. Spent 4 out of the 5 days in this season running up and down the hills hunting before work with very little time off. Saw a boat load of does and a few small bucks but I decided 2 years ago Id rather eat a tag than shoot a young/small animal, and so the hunt rolled on. I spent the final day on a 5 mile deep canyon run with a good friend of mine and found nothing but lots of elk and mountain lion sign :shock: On the last hour of the last day I went back to check on a ranch I talked my way into this year, this ranch has always held lots of deer and a few big boys but the one big buck showed up one evening when I was at work. Of course the land owner called to let me know he WAS there until a road hunter atemped a poor poaching shot at him and scared him off. I was furious about the situation as he was the only "shooter buck" I was willing to pull the trigger on in that area. That evening I found a bigger buck than I had expected on said ranch but of course his back two tines were completely broken off and he was running with a monster 2x2 (as big a 2x2 gets) so I passed. My buddy suggested we drop down behind a ridge where the deer might go to get out of the wind and I agreed. But I had told him we needed to go glass a little valley with a creek bottom first because there had to be less wind there than anywhere else on the property. Sure enough not 5 minutes into the lower valley I found the above pictured buck, positioned my self for a shot...let the does clear and sent one through both shoulders! He is not the monster I was after but one I am satisfied with, he lost plenty of points from lack of mass and broken off eye guards but he was mature and will look good on the wall. I am as happy as can be for this buck and the time I got to spend in the woods.
1 day later I found my self on the road again headed east in persuit of archery white tails. This was my first year archery hunting, and my first year hunting white tails. With a TON of help from my best hunting partner Aaron Cohn I had set up 5 stands of my own and 7 or so of his earlier this summer. I felt confident in my stands, shooting capabilities and a tad nervous about bringing it all together. As the game works some buddies of ours were in one of our stands near by where I had a few 150"+ buck on trail cams and one of them managed to stick the big 10 I was after. :target:
The first morning in the stand I didnt see much until I spotted a few does making their way down the bottom. I patiently waited with a good wind for the does to come pay a visit. Finally I had a mature doe feeding 18 yards from the stand as I nearly gave my self away from my excitment. I ranged her and let her keep coming but had to come to full draw because I was shaking so bad my arrow was bouncing off of my rest! :rotfl: As she looked up into the tree to check the comotion I sent one right down to her and dropped her in her tracks.
The following day I sat a stand I knew had a bruiser 150+ buck in it, I saw him up on the ridge line chasing does on the edge of the corn. He passed by but would not come down into the bottom so I had to make moves, I ran the rattles and got him to drop down, hit the grunt tube and he came blazing down the trail. I stopped him at 22 yards at full draw and just couldnt pick a pin (funny part is my first pin is dead on out to 30 yards :bangin: ) I missed and off he went, I was pretty upset with my amateur move but I was having too damn good of a time away from work and in the woods. In order to relieve my self of the dissapointment I decided to fill another doe tag. Along came another white tail doe and fed 52 yards from my stand, as soon as she was in the clearing and comfortable in her surrounding I let one rip and put one through her. With in the next few days the bruiser came by again but traveled a trail that had too much brush, I had a momentary opportuinty but was not able to sneak one through the brush. I passed on quite a few 125" bucks though I would be a hipocrite if I were to shoot an immature buck, plus I didnt want to shoot myself out of a potential bruiser in the future. As I had these bucks at 3-30 yards and even walking under my stand licking the ladders I kept thinking "the hell with it, its my first white tail buck Ill just shoot one of these" but I couldnt bring myself to do it. Also I had drawn a mule deer doe tag in a lottery and still had that along with my buck tag.
I sat in 60mph wind in the stand with no action when I saw 3 mule deer does about 100 yards away making their way to me! Then I heard "crack crack....BOOM" and a large tree fell 10 yards from the deer in high winds! :bangin: So I patiently froze my :arse: off with no deer moving when about 3 hours later I spotted the same 3 mule deer does comming my way again! I let them feed right down to my section because I was wary of shooting in such high winds, I got the does to about 15 yards, came to full draw and decided to let the large doe and fawn go, the medium size doe was quartering to me and I stuck one through the neck, behind the shoulder blade, down into the vitals, she jumped about 3 yards and rolled over dead. :cheers:
I also managed to smack a doe at about 40mh with my truck with no option, I either hit the guard rail on the bridge or the deer.....so the deer had to go. I damn near destroyed the front end of my truck but made it out after pulling the bumper back out a few inches with a tow strap. I had one hell of a heart pounding, adrenaline packed hunt and couldnt be more thankful for the opportunities I had. Hats off to all the ranchers, farmers and Aaron for all the help! :cheers:
The icing on the cake...I get back to CO and the birds are moving in, my blood pumps harder with every flock I see and cant wait to stack up the fowl! Thanks for reading, hope you enjoyed :cheers: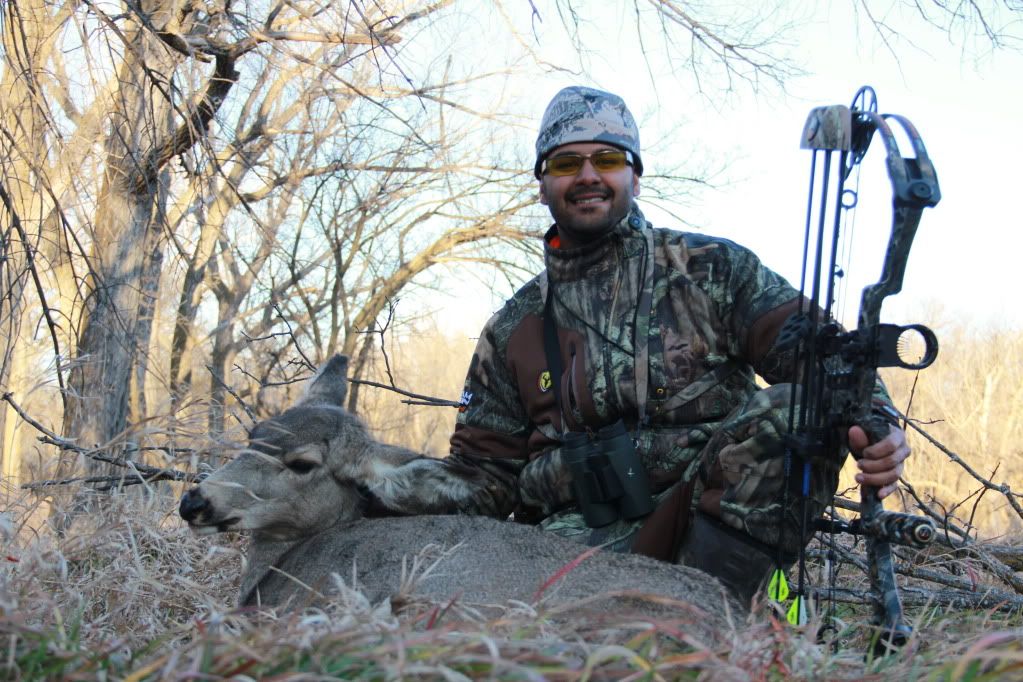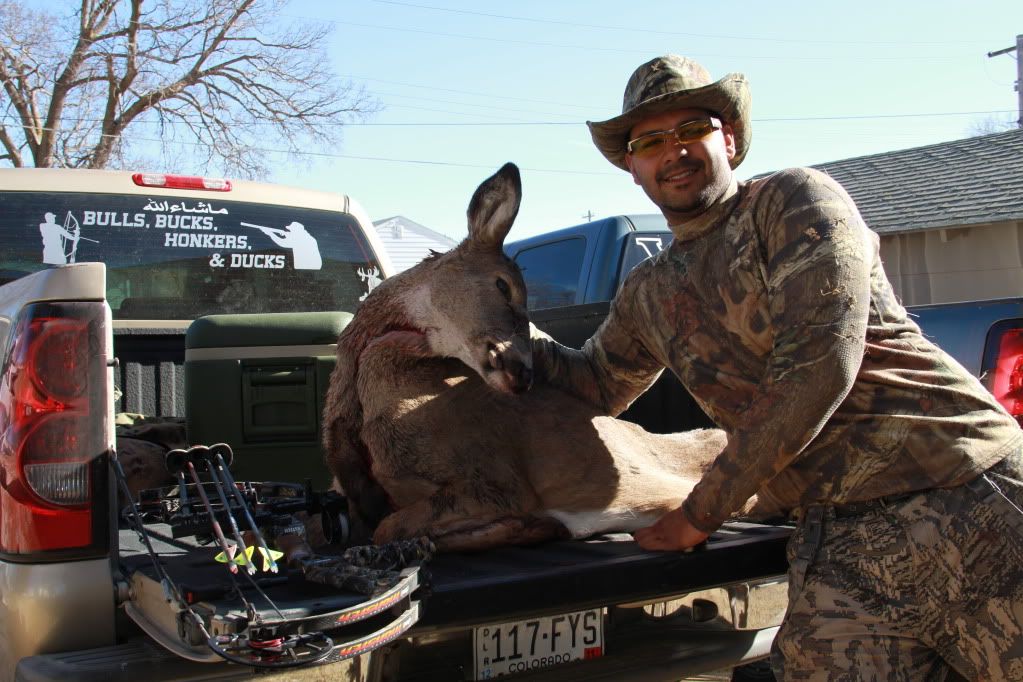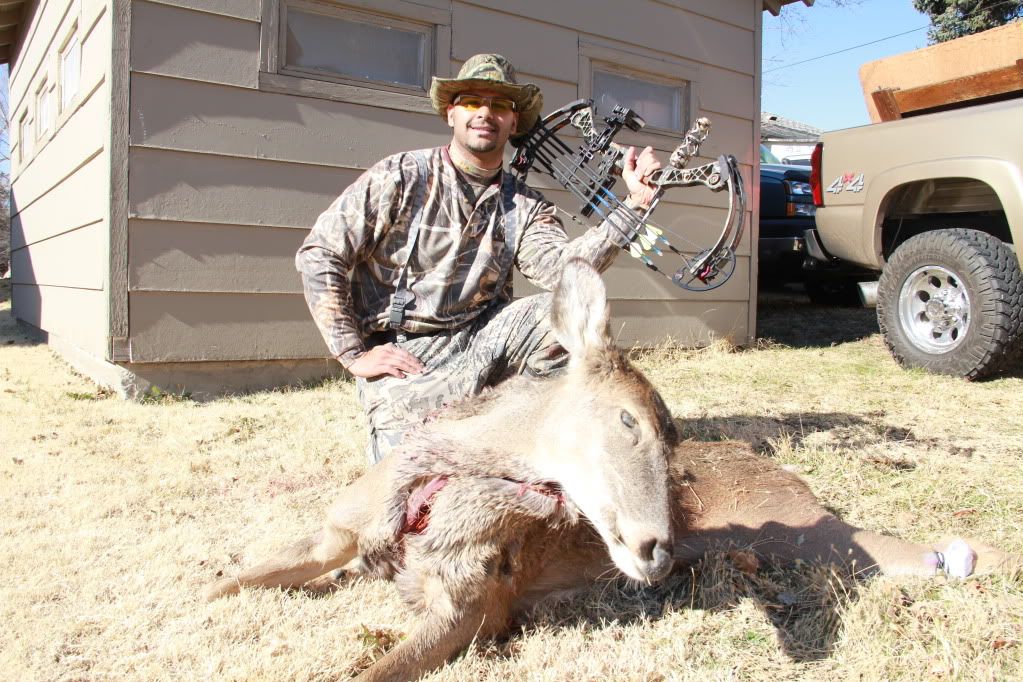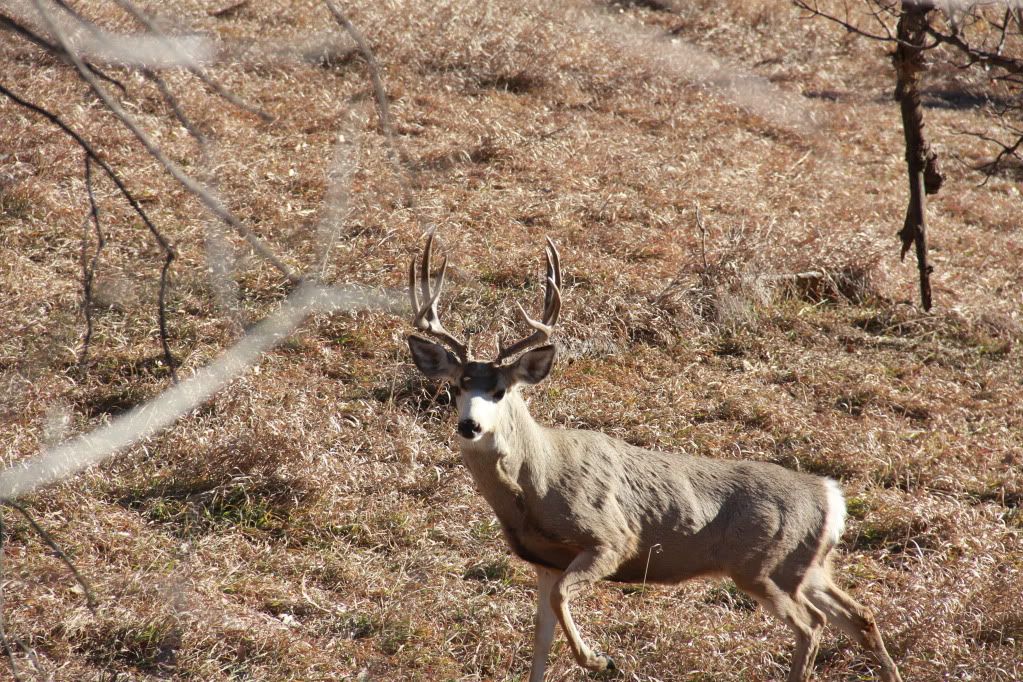 Also, this guy came by at about 5 yards but he has a couple years to grow into a 185"+ monster (he is def on track!) and getting a muley tag is a difficult mission.