Quote:
Originally Posted by
Dalebow
Iam up to 27 or so deer with my 300wsm and 150gr BST, NEVER had a deer take a step, totally drops em, Ive shot everyth
ing from chucks to antelope, bear, Elk, Mule Deer with it, probably close to 1000 rounds between practice and its a Rem 700 Harvester from Hill Country Rifles, McMillan sporter stock, trigger job, Zeiss conqest..............really makes my custom guns obsolete
I get the feeling you, & I are long lost cousins somehow
great signature too by the way!
Im a Huge fan of the 270, & 300 in most any chambering, especially in the WSM's! Not the biggest. Not the smallest, but they just always get the job done on anything a guy pulls the trigger on, from Deer, Elk, Bear, Coyote etc.
Maybe that's why I own a 270WSM, & I'm having a 300WSM built on my old long action Win Model-70, 30-06' I got as a boy. I love that rifle, & cartrige, & I killed my first everything with it, but the 300WSM just blows it out of the water as far as the LR game is concerned, & since that is where my passion is, that's why I went the direction of the Long Action 300WSM.
__________________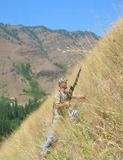 "Its not Rocket Surgery.....'
GOD,GUNS,&GUTTS MADE AMERICA, LETS KEEP ALL 3!winmag
"I have No idea why that cop made me ride in the back seat, when I Clearly called Shotgun!"