I have just got back from a trip to a new area. The country was as rough as guts and steep to boot so I reluctantly left my long range rig at home.
Instead I took the Tikka 7mm08 which has good medium range capabilities as I have fitted a Leupold target turret to it.
The first evening hunt was promising, I spotted a Chamois doe feeding approx 300yds away when I was taking a leak near the campsite. I was after venison for the plethora of Christmas BBQ's we have coming up so left it well alone.
Some time later I was on a big ridge which provided good travel and the ability to glass down the opposing faces. I saw three hinds, all had fawns at their feet and they looked pretty new. The hinds were not in the open for long, they hung around the scrub edges and would disappear quickly. I raced back to another part of the ridge to glass another area that I had not yet checked out. While sitting there glassing I heard some rocks move and saw a good pig come out of a scrubby gut, I really wanted venison so let him walk off. Just on dark I spotted three deer but they were a longgggg way off so I decided to head there in the morning.
Morning broke clear but there was a gusty wind blowing that luckily was in my favour. After a while I bumped into the pig from the previous evening, I stalked to withing 4 metres to assess his tusks which were pretty much non existant. He sensed that something was wrong and stared for a while with his beady eyes before running off. Would have made a great photo but it was still too dim. A quick check with the bino's and I could see a few deer in the area where they were the last evening.
I continued on and saw another pig on a steep scree slope, actually the first thing I saw was a clump of spaniard grass (a spiky alpine plant) rolling down the slope, mrs pig had dug herself a big hole and was sending these things flying. She wouldnt come out for a photo so I heaved a few rocks down at her, one eventually hit her on the backside and she come out of her hole and allowed me a quick pic before wandering off.
I went into stealth mode and closed the gap on the group of deer which ended up being a group of stags. On the way through I spooked a hind that appeared to have no fawn, luckily she ran away from the stags and refrained from barking at me.
As I rounded a steep face in stealth mode a stag poked his head around a big rock to see what was coming, I had a clear shoulder shot and had to take it freehand at a close 75-90 yds. The TSX hit him hard with heart shot and he lurched forward ten metres trying to run. He then piled up under a small bluff.
This guy was as fat as butter and it will be great eating
I then got the camera out and got a few photos of the others before they departed
This guy came up out of another catchment, I don't think he knew where the shot had came from, he was barking but was reluctant to run until he pinpointed the danger.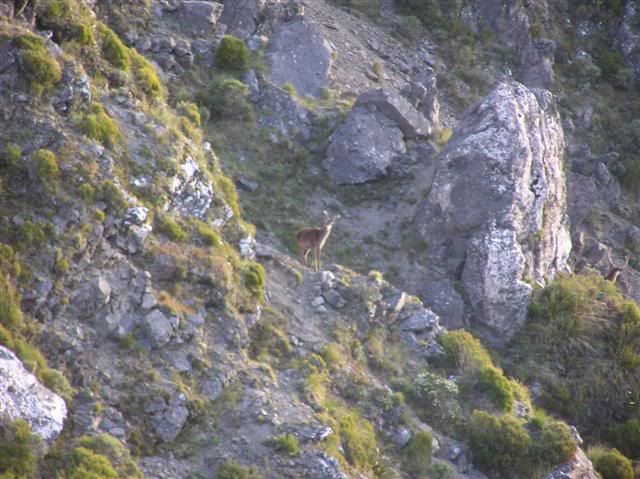 Another pic
The carry out was massive so I boned out the back legs and took the backsteaks.
Roll on the Christmas BBQ's
cheers, Steve