Re: Muzzle Brake Test - Video
---
Cool, Ive been thinkin I need a break on my mod 70 Win 300wby. every smith I talk to has different advise. ''You dont need one theyre a waste of $'' or ''I recomend this brand or that, and i can install you only this kind '' or ''All your gonna do is blow out your ear drums, buy a smaller caliber''.
NOT 1 has put on a demmo. Thanks nate I may look you up when I have some extra $. For now, Im going strait to your web site! Lots of guys on here recomend your breaks, and this aint an easy crowd to please!
__________________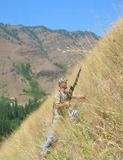 "Its not Rocket Surgery.....'
GOD,GUNS,&GUTTS MADE AMERICA, LETS KEEP ALL 3!winmag
"I have No idea why that cop made me ride in the back seat, when I Clearly called Shotgun!"