Re: Broke the ice in Tn this morning
---
Quote:
Originally Posted by
HighKnob
Worked a group of hens, jakes, and long beards for nearly 2 hours. Finally got a hen within 15 feet and 2 jakes at 40 yds and the old bird couldn't stand it any more. 21.25 pounds 7/8 in spurs 9 1/4 in beard. Good to get that first one on the ground.
I wrote an entire paragraph in reply to this thread earlier................. I must not have hit the ''submit'' button........... dang!
Well congrats. Its very rewarding to work hard and be rewarded for your efforts. Well done.
__________________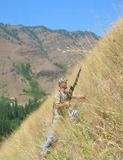 "Its not Rocket Surgery.....'
GOD,GUNS,&GUTTS MADE AMERICA, LETS KEEP ALL 3!winmag
"I have No idea why that cop made me ride in the back seat, when I Clearly called Shotgun!"