Re: wdpreacher1949
---
How's that country look after the Bigwash fire in -02'?
That was a bad year for all of us Oregon firefighters. Lost a few friends from Durkee, & LaGrande. I even git trapped, & burnt over on that one. Luckily by a cabin with a creek just deep enough to draft off of so kept us from having to jump in our shake n bakes. Porch caught fire 3 times tho as did the siding, & the wood shed saw better days, but we saved it, & it saved us till they could re-cut a road in to get us relief.
Went strait from Cedar City to Durango Colorado for the Missionary Ridge fire. Bad bad year.

Anyhow, just wondering how that country looked when it wasn't on fire. Looked promising if it recovered well. Should hold quite a few critters.
__________________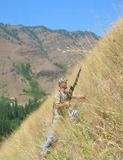 "Its not Rocket Surgery.....'
GOD,GUNS,&GUTTS MADE AMERICA, LETS KEEP ALL 3!winmag
"I have No idea why that cop made me ride in the back seat, when I Clearly called Shotgun!"