You have all the right intentions........
Id send a PM to Kirby (a.k.a. Fiftydriver, inventer of the Allen Mag, & Allen Extreme Mag). Kirby may be very difficult to get ahold of due to the incredibly high demand for his customs, but he does get back to people sooner or later. You may have better chance of a timely response with Long Time Long Ranger who's a Weatherby guru and has probably shot more 338's in different configurations than anyone except maybe Kirby.
You could post this question in the gunsmithing section too, wich may help alot.
Another option is the 338 Edge, and Shawn Carlok, its inventor/promoter is also a member here. If you didnt want a belted case that would be a cool option for an L/R rig, and many members here have gone that route, and are very pleased. Shawn could probably answer your question regarding the use of the Number1 as a platform for a high powered 338.
The only concern Id have with the number 1 would be ectracting "hot loaded" brass. Ive stuck a bolt or two playing with loads, and I dont know how a number 1 would act reguarding extraction. Its one incredibly tough and inherently accurate action tho. Just thinkin outloud....
Glad you found L/R/H. Theres a ton of polite people and loads of usefull info here.
__________________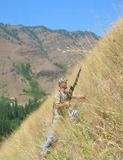 "Its not Rocket Surgery.....'
GOD,GUNS,&GUTTS MADE AMERICA, LETS KEEP ALL 3!winmag
"I have No idea why that cop made me ride in the back seat, when I Clearly called Shotgun!"