Glad you found LRH.
It's nice to see members with experience. That's a long list of credentials you've got.
Sadly many of the newer members here contribute very little usefull information. Not all, but the majority it seems these days.
Anyway, its nice to see new members whove been there done that Before they think they're experts...
Looks like you've put in your time, & then some. I look forward to reading your posts. I'm always up for learning something new.
As you may already know, or have already read, there's a growing list of guys asking questions concerning the big 50. Not too many folks have information for them.
There's also a coyote hunting section here. Looks like you'll feel right at home in no time.
Thank you for bringing your experience to a great forum.
We need more folks like this.
__________________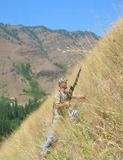 "Its not Rocket Surgery.....'
GOD,GUNS,&GUTTS MADE AMERICA, LETS KEEP ALL 3!winmag
"I have No idea why that cop made me ride in the back seat, when I Clearly called Shotgun!"