Wow, were twins
I have mostly Winchesters, & almost exclusively use my Model-70, 270 wsm, & my Model-70, 300 Wby for my L/R shooting.
Glad to have you here. Hope you enjoy.
__________________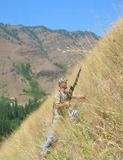 "Its not Rocket Surgery.....'
GOD,GUNS,&GUTTS MADE AMERICA, LETS KEEP ALL 3!winmag
"I have No idea why that cop made me ride in the back seat, when I Clearly called Shotgun!"