Re: Newbie from NJ
---
Welcome to L/R/H. Theres alot of guys with alot of experience and information here that are willing to share. While I have 0 experience with a 6.5 cal anything,(exept a .264 win mag) I have hered of wonderful accuracy at extended range with a 6.5-06. Bring it up on the main page under something like Rifles/bulletsbarels/balistics column, and start a thread. It probably wont be long till you have an abundance of answers and opinions and options.......you get the idea. Good luck. I look forward to reading your posts.
__________________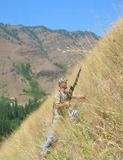 "Its not Rocket Surgery.....'
GOD,GUNS,&GUTTS MADE AMERICA, LETS KEEP ALL 3!winmag
"I have No idea why that cop made me ride in the back seat, when I Clearly called Shotgun!"