Quote:
Originally Posted by
doranSpenst
I live in western Oregon. I have always hunted elk, deer, blackbear, and love to fish. I have been noticing over the last couple of years the declining deer populations and have become increasingly aware of the neccesity for predator management by hunters. Not only will I be helping the deer and elk populations, but will really improve my overall hunting and shooting skills. I only have a 300 winchester mag, and 12 gauge for the moment. I would really like to get a 22-250 or 204 ruger but funds are tight right now. I am trying to decide if I should invest in a used single shot or wait and buy a bolt action.
Wait. Depending on what the single shot is, but Id wait.
The 223wssm is just a tic faster than the 22-250 AI, but both are fun L/R varmint cal-cartriges. The 243, and 243AI, 260 rem, and 6.5wssm seem to kick some butt way out there too, but it all depends how far, and what critters. Ive used my 30-06, 270wsm, and 300wby to kill coyotes, birds, and sage rats, but they arent exactly your Ideal varmint whackers
. Well nice to see you found L/R/H. Hope you enjoy it here as much as we do.
__________________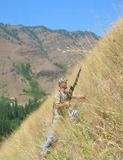 "Its not Rocket Surgery.....'
GOD,GUNS,&GUTTS MADE AMERICA, LETS KEEP ALL 3!winmag
"I have No idea why that cop made me ride in the back seat, when I Clearly called Shotgun!"