Tell the Sargent Major thanks for his or her service.
My grandpa is a Command Sargent Major- Retired. He was 187 Rakkasan, occupation forces in Japan untill Korea broke out. He went to Korea then up & told the Army to get bent when they wouldn't let him go to Nam. He pulled the plug & ended his career at 19+ yrs, but before his 20 was up.
Now he wishes he'd have just finnished his 20, especially for the retirement, but he Loved his job!! He always talks to any vetran like a long lost cousin. (especially if they were airborne
)
Anyway, thank your husband or wife for thier service for me, & my grandpa.
__________________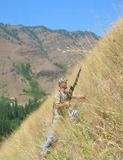 "Its not Rocket Surgery.....'
GOD,GUNS,&GUTTS MADE AMERICA, LETS KEEP ALL 3!winmag
"I have No idea why that cop made me ride in the back seat, when I Clearly called Shotgun!"