Quote:
Originally Posted by
VinVanGo
I am looking for advise on the Ziess ASV in the victory series. I have read a lot on the Nightforce scopes and I am impressed. Although I have Ziess products and I like the optics. Can and does the Nightforce compare as far as clairity and light admission?
I used a Zeiss Victory Diavari 3-12x56 (lit mil-dot reticle + ASV elevation + windage turret) exclusively for a couple of years. Excellent tube but I made some changes to it, though;
* Removed the turret lock feature -- no need to lift the turret for adjustment anymore
* Turned the knurled part into a small rim, to allow for more room on the turret for my own BDC
* Removed the "single turn" feature to allow for continuous adjustment throughout the entire range (12mrad+ instead of the 7mrad single turn)
* Colored the turret top white to indicate when it's on second turn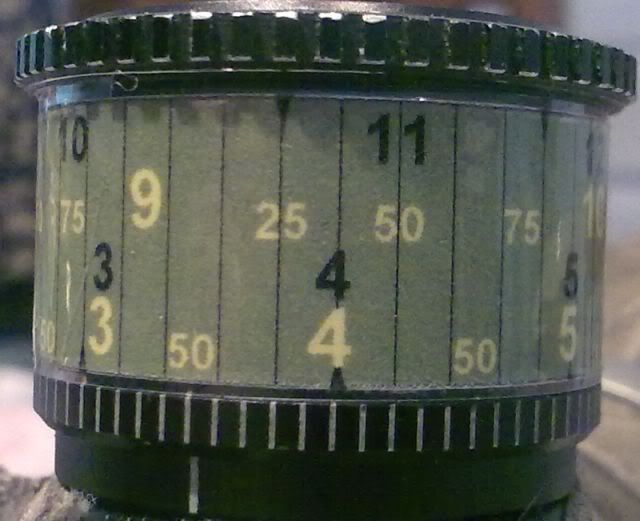 Showing some signs of field use, but still a decent photo of my elevation turret. The white lines on bottom are what's left of the original turret markings. The black lines are an extension of those on the BDC. The yellow numbers are distance in meters, abbreviated to allow for as large font as possible, for maximum readability. The black numbers are windage values in 0.1mrad clicks, for 2 m/s wind. In the picture, the turret is set for 350 meters, and windage for 2m/s at 3 or 9 o'clock is between 3 and 4 clicks.
I'd rate Zeiss over NF in the optics department but on the other hand, optical quality is not the only important feature in a rifle scope, so choose carefully. I had to do quite a lot of work to make the Zeiss perform as I wanted.