Do you know any of the Stanfords (Francis, or Shari), Mckay's (Tyler), or Browns (Vern, or Vickie)? Guess the Browns were closer to Burns, than J/V, but still. I rodeoed at T.V.C.C., and/or went to class with the above mentioned. Great folks. Long live the Big Loop!! Great place-Jordon Valley.
Oh and ya GO BEAVES! for sure! Im stickin with my support of the Agg schools no matter how OSU, or WSU, rank in the polls compared to thier syblings. At least they all had rodeo teams, and were fun to compete against. The only colleges I struggle with choosing who to cheer for is U of I, and BSU....Just cant decide. Love U of I and thier agg program, but BSU is so dang fun to watch.....
Well cant wait to see the rifle when its complete. Im sure your waiting on pinns and needles.
__________________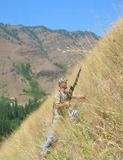 "Its not Rocket Surgery.....'
GOD,GUNS,&GUTTS MADE AMERICA, LETS KEEP ALL 3!winmag
"I have No idea why that cop made me ride in the back seat, when I Clearly called Shotgun!"