Man I wish I had a tool like L/R/H when I first started out. I wouldve saved alot of money and heartache, and wouldve also extended my effective range much sooner in life.
You found, what is in my opinion, the absolute best, most informative, and safe place to learn, or add to your existing knowledge. I convinced that there is more practical, and specialized knowledge of hunting firearms and thier capabilities here than anywhere else.
Glad you found L/R/H. Hope you get as much out of it as I have.
__________________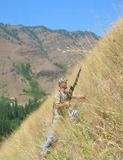 "Its not Rocket Surgery.....'
GOD,GUNS,&GUTTS MADE AMERICA, LETS KEEP ALL 3!winmag
"I have No idea why that cop made me ride in the back seat, when I Clearly called Shotgun!"