Maybe something along a 300wsm.... works well with 180 gr and lighter bullets, not a whole lot of added recoil like a Weatherby etc. and ammo is available most everywhere. Very versitile. LIMB SAVER and a brake will reduce most of the reciol.
However if recoil is a big isseue you may want to look at a 6.5(264 in english) of some kind. Maybe 6.5/284 or 260 Rem.(a 6.5 on a 308 parent case) I dont know much about small bore stuff, but that 6.5(264 in english) is a long range tack driver with the right shooter and set up.
Not -MY- first choice for elk,compared to a 300 mag of any kind, but talk about POTENTIAL if you have the right set up and are good with it.
Then again I love my 270wsm on anything shy of Griz,(mostly cause I havent tried it on Griz I suppose)haha
But I have bigger guns more suited for them.
__________________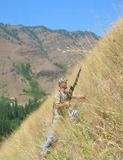 "Its not Rocket Surgery.....'
GOD,GUNS,&GUTTS MADE AMERICA, LETS KEEP ALL 3!winmag
"I have No idea why that cop made me ride in the back seat, when I Clearly called Shotgun!"