Re: Living the dream in St Helens Oregon, really.
---
Sounds like you got a keeper! Congrats. I was on a tractor disking a field last time your hill un-corked.(I was pretty little the first time) Hows the Elk huntin now-a-days. Welcome to L/R/H! Hope to read some of your posts.
__________________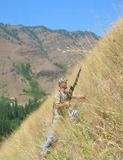 "Its not Rocket Surgery.....'
GOD,GUNS,&GUTTS MADE AMERICA, LETS KEEP ALL 3!winmag
"I have No idea why that cop made me ride in the back seat, when I Clearly called Shotgun!"