WOW. That sinks in. Im sure he'd be proud to see his boy, and his guns togather, and thats cool. Your RCBS press will likely never be outdated. If I could buy an old RCBS press, I would in a heartbeat. Now as for your load books.....well they can become outdated with time, and ever changing powders, however, with the load data you have, and the books he worked from, and targets he left, DONT CHANGE ANYTHING, as long as the same powders,etc are still available. He did you a huge favor by leaving that information for you to learn from. And that in itself will be just like him sitting next to you and teaching you hands on. That my friend is gold! Sentimental, and priceless. Im sure he'd be proud!
Welcome to your new home
(L/R/H). I hope the ledgend lives on, who knows, he might have been giving advise on here too.........Glad you joined.
__________________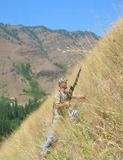 "Its not Rocket Surgery.....'
GOD,GUNS,&GUTTS MADE AMERICA, LETS KEEP ALL 3!winmag
"I have No idea why that cop made me ride in the back seat, when I Clearly called Shotgun!"