Re: Hi, I'm from Texas, but I don't brag about much
---
I also worked up a great load with Hornady SST's and IMR 4831. but they were for my 270wsm and my dads 270wsm both featherwt Model-70's. They shoot the same charge, but require different seating depths. Incredibly accurate too! I just wish I had more confidence in the SST. I shot 24 rounds at 450yds between the two rifles at a target fixed to a piece of plywood. I recovered only two of the 24 bullets shot, from the dirt behind the target, and both had complete core/jackett seperation. Not impressed with the performance, but LOVE the accuracy(best group was 2.586'' at 450, with my dads rifle of course
).
Maybe Im not giving the SST a fair shake with the plywood, but 2 of 24 isnt good feedback. I dont know. But now I have the load data, so I can expiriment with bonded bullets(wich I do trust), and if I cant get em to shoot, I can always go back to the SST. I do love the high B.C. and the way they fly out of our rifles!
__________________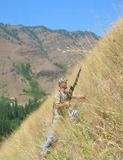 "Its not Rocket Surgery.....'
GOD,GUNS,&GUTTS MADE AMERICA, LETS KEEP ALL 3!winmag
"I have No idea why that cop made me ride in the back seat, when I Clearly called Shotgun!"