Re: Hello from Oregon
---
Great to see another Oregon guy! Youve found a new Home here at L/R/H. gREAT videos. Dont feel bad, I shot 500 in the wind this weekend and my BEST group was 1'' tall,.......... but 9inches WIDE! I was having one heck of a time as well! 15-20 mph constant blowing grass, and wiggeling sagebrush plus with gusts and flurries rocking me on the ground, it was kickin my butt HARD!!!!! Id try shooting only when the 500yd flags died down, but to no avail. I need to shoot alot more in the wind.
p.s. were you on green mountain? looked like a place or two down 6 or 26, past Banks or Gales creek.
Wheres home for you? (then/now) Im origionaly from Baker Co. and now live in Central Or. But Ive got relitaves on the (ssshhhhhh) west side. poor souls!
__________________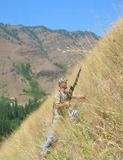 "Its not Rocket Surgery.....'
GOD,GUNS,&GUTTS MADE AMERICA, LETS KEEP ALL 3!winmag
"I have No idea why that cop made me ride in the back seat, when I Clearly called Shotgun!"