Re: Hello
---
Howdy. Glad you found L/R/H. Sako's are nice rifles from my limmited experience with them. Ive only played with a Finnbear in a 7mag, and it shot handloads in sub 3/4 and smaller groups at 100.
Well hope you like it here, theres a bunch of very knowledgable shooters here with a huge amount of knowledge and theyre willing to share it.
__________________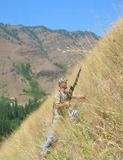 "Its not Rocket Surgery.....'
GOD,GUNS,&GUTTS MADE AMERICA, LETS KEEP ALL 3!winmag
"I have No idea why that cop made me ride in the back seat, when I Clearly called Shotgun!"