Re: First post from Tacoma Wa.
---
Glad you found L/R/H.
Theres a ton of info here and alot of nice and polite folks too.
If you need load data try a "search"
Once you sign in, you will see your name in a tan colored box that says
welcome reelfun under that theres a grey colored bar going horizontal accross the screen with a bunch of choices in it. almost directly under the welcome reelfun will be a search option (3rd from right). Click it and give er a whirl. Lots of info in the archives.
You could also post a question in the reloading section just above rifles barrels bullets and ballistics (not the one near the top of the main page)
Hows that Sportsmans Warehouse (or wholesale sports now) doin that I built in Lacey? Fun project, way easier than the one I built in Burlington! Nightmare!
Anyhow Welcome, good to have you. Hope you enjoy L/R/H as much as we do.
__________________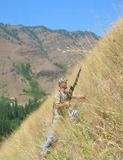 "Its not Rocket Surgery.....'
GOD,GUNS,&GUTTS MADE AMERICA, LETS KEEP ALL 3!winmag
"I have No idea why that cop made me ride in the back seat, when I Clearly called Shotgun!"