Re: 300wsm
---
Just started load development on mine today. Barrel break in, & first fireing are as follows:
RL-17, /180Accubond .015 off lands/ Fed.215 primer,/Nosler brass, / Long Action Model 70 Win/Custom with 26" Hart 10 twist.
63gr barely sub moa 5 shot group
64gr-Barely sub moa 5 shot group
65gr- gun hated it. 1 1/4+moa 5 shot group
65.5gr- 3/4 moa 5 **** group__slight tension on bolt lift__
66gr (MAX LOAD) -3/4 moa 5 shot group__slightly more tension on bolt lift, but not stiff. No cratered primers, no shiny marks on brass etc.__ but it was time to throw in the Rowell. I was close. Sometimes you can just tell, ya know.

RL-19 is next, followed by H-4350Extreem for the 180's
And IMR-7828ssc for the 200gr Accubonds.
__________________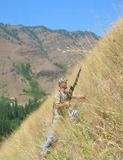 "Its not Rocket Surgery.....'
GOD,GUNS,&GUTTS MADE AMERICA, LETS KEEP ALL 3!winmag
"I have No idea why that cop made me ride in the back seat, when I Clearly called Shotgun!"