Quote:
Originally Posted by
338reezens
appreciate it guys!

winmag, yes that id the JP Enterprises "Tank Brake". i had one on another rifle and i loved it.
Very interesting. Ive never seen one like it. Hey just think (if you ever run into the situation, for some realy odd reason), you could use your rifle for a zipline handle with a brake like that.
I realy dont know where I come up with stupid ideas like that, but it was the first thing I thought of when I saw the shape of the brake. ''hmmm thats a strange looking thingy on the front of that rifle barrel. I wonder what youd use it for........ A zip line! Ya!.... Wait maybe thats the brake he mentioned in the parts list....''
Well, ok so, maybe Im a prime cantidate for riddlen
. Thanks for gettin back so soon on the question.
__________________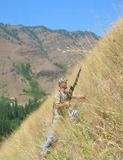 "Its not Rocket Surgery.....'
GOD,GUNS,&GUTTS MADE AMERICA, LETS KEEP ALL 3!winmag
"I have No idea why that cop made me ride in the back seat, when I Clearly called Shotgun!"