Re: CZ-USA Custom Shop .25-06
---
Nice to see something different.
I own a CZ-712 and a CZ Canvasback, and like both very much, but Ive never seen a CZ custom rifle before. Thats a nice cahnge of pace from the usual.
__________________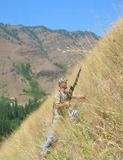 "Its not Rocket Surgery.....'
GOD,GUNS,&GUTTS MADE AMERICA, LETS KEEP ALL 3!winmag
"I have No idea why that cop made me ride in the back seat, when I Clearly called Shotgun!"