I tried a bit if image processing on the posted photo to show the facial features better. I think it looks somewhat like the face of a boxer dog holding something in it's mouth, perhaps a piece of skin from some other critter. The eyes are complely overexposed from retroreflection from the infrared illuminator in the camera. My impression is it may be running and making a sharp turn to it's left. If it's not that I don't have a clue. Of course it could be some photoshop users idea of a joke.
Contemplating that this beast may be real doesn't scare me nearly as much as knowing that Michael Jackson was real. This might be someone's pet. The photo doesn't give much information about the image scale. The original poster ought to be able to determine how big this critter was. Another question, is the IR illuminator on the camera mounted a few inches above the camera lens? If not, where?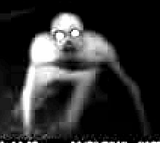 My image processing only adjusted the brightness and contrast. I didn't adjust any indiviual pixels or do anyting to make pixels interact like shapening or blurring. .