Re: 6 point Bull
---
BOOM!!!
HA!
May not be Long Range, but I certainly wouldnt pass on a shot that close. That bugger would fill my freezer nicely. Cool pics, loved the lip curl. Did you name him Elvis? hehehe
__________________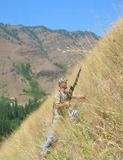 "Its not Rocket Surgery.....'
GOD,GUNS,&GUTTS MADE AMERICA, LETS KEEP ALL 3!winmag
"I have No idea why that cop made me ride in the back seat, when I Clearly called Shotgun!"
---
Last edited by winmag; 10-23-2010 at

01:26 PM

.