Phase Conveter F/S
---
I have a Heavy Duty Phase-A-Matic static inline phase converter for sale.

Runs 220V - 3 Phase motors on 220V - single phase power

Model PAM-600HD

H.P. Range Min. - 3hp / Max. 5hp

I had bought this when I built my shop about 9 years ago. I had it wired up to my Kearney Trecker 5hp horizontal mill. I never used the mill much and sold the mill several years ago. The converter has been a box ever since. These converters are $230 new I'd like to sell this for $150 with free shipping to anywhere within the US.
__________________
Home of the "EXTENDED IMPACT" DVD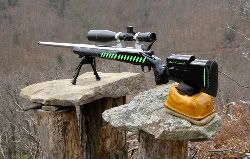 www.mcrifles.com