Well, just got to do this like a band-ade, fast. I actually got this stock in the mail yesterday, I had traded another stock for it. Problem is before I commited to trade I also bought a thumbhole from Richards, figuring I would re-sell the thumbhole. Well both stocks showed up yesterday, kind of fell in love with the thumbhole. Really like the feel of it, and it is a little more suited to a carry type rifle.
Anyway, here it is, (Sorry Wade, for using your pics) Its a factory painted stockade. Left handed, SA, for a staggered mag, 4.25 action screws. I would rate it at around 7 out of 10, some of the paint has been removed from stock on bottom, at one time there was an adjustable cheekpeice on it, the holes have since been filled but not painted, the recoil pad shows some wear, but all and all ready to bolt up and shoot.
I'll let this go for $225 shipped, bit more than the money saver, but not full $300 for a finished stock and no 8-16 week wait either!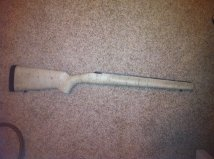 Trade offers would still be glass,,,6.5-20's or something along those lines.
Thanks