Putting my Swarovski Z6i 3-18x50 (illuminated) up for sale. It is a Gen I with the rail mount system and it has the Ballistic Turret. It's been hunting one time and that was the last mule deer hunt I did in New Mexico a couple years back. Used it for 2 days, shot my deer and switched to another barrel and scope for coyotes. It is mint with no marks, glass is perfect, etc. I've since decided that I like the 5-30x50 models over the 3-18x50.
The 3-18x50 however has much more adjustment both in elevation and windage than the 5-30x50 so for those who truly get into the long range shooting it is a better option than the 5-30 is.
The Ballistic Turret is easily set by imputing your data (factory or handloads) into the program on Swarovski's website. It is super easy to use. Swarovski is also offering custom turrets with the ranges inscribed on the turret. You call them and give them the data and they'll make the turret to your caliber specs.
Scope comes with the box and a new rubber strip that you can cut to fit once you figure out where you want the mounts located. The turret cover that holds the spare battery is on the scope. I had the bikini lens covers but evidently put them someplace 'safe' and haven't seen them since. If I find them they'll go with the scope.
I have one set of Swarovski Cross Slots mounts which are for mounting a rail scope on any rifle with Weaver or Picatinny bases. Due to them being nearly impossible to get here in the states they are not for sale unless the buyer of the scope needs them. I'll take $125 for them if you need them.
The new Gen II retails for roughly $3800 and is a special order. I am asking $2550 plus shipping for this one. You'd be hard pressed to tell this one wasn't NIB.
Any questions shoot me a PM.
Technical Data
Magnification 3-18x
Effective objective lens diameter (mm) 29.0-50
Exit pupil diameter (mm) 9.5-2.8
Exit pupil distance (mm) (Eye relief) 95
Field of view (ft/100 yds / m/100 m) 39.9-6.6 / 13.3-2.2
Field of view (degrees) 7.6-1.3
Field of view, apparent (degrees) 22.8
Dioptric compensation (dpt) -3 to +2
Light transmission (%) 90
Twilight factor acc. to DIN ISO 14490-1 8.5-30
Impact point corr. per click (in/100 yds / mm/100 m) 0.36 / 10
Max. elevation / windage adjustment range (in/100 yds / m/100 m) 64.8-36 / 1.8-1
Parallax correction (yds / m) 55-∞ / 50-∞
Objective filter thread M 52x0.75
Length (in / mm) 15.12 / 384
Weight (oz / g) 22.4 / 635
Central tube diameter (in / mm) 1.18 / 30
Functional temperature -4 °F to +131 °F (-20 °C / +55 °C)
Storage temperature -22 °F to +158 °F (-30 °C / +70 °C)
Submersion tightness 13 ft / 4 m water depth (filled with nitrogen)
Illumination unit
Brightness levels Twilight: 0 - 32 / Day: 33 - 64
Operating time (h) Twilight factor at medium brightness: 1,400; daylight factor at medium brightness: 180
Here is a picture of the Swarovski Cross Slot mounts. Never have any ring marks nor worry about having the scope level or tilted to one side or the other. It's idiot proof. Also less screws to come loose compared to standard rings and bases.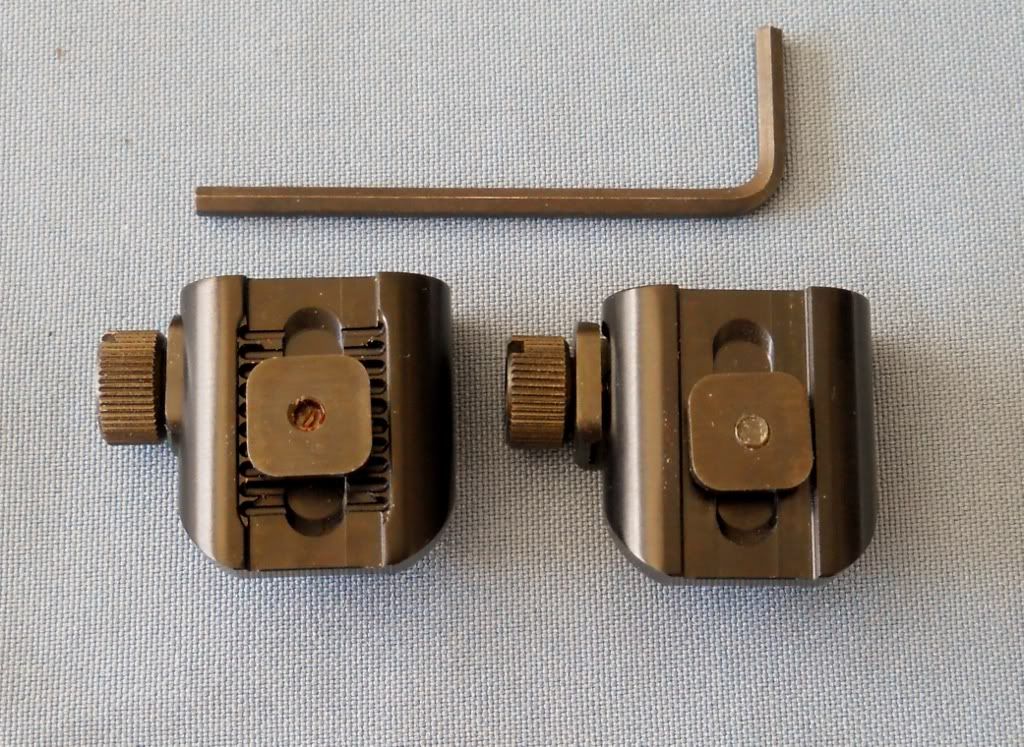 In this picture I have a different scope mounted with the Cross Slot Mounts so you can see how they hold the scope on the weaver bases. You simply position the mounts in the rail where you want the eye relief to be and tighten them down. The 'teeth' in the mount will grab the teeth on the underside of the rail thus eliminating a scope sliding in the rings which most of us have experienced. Recoil doesn't effect this system.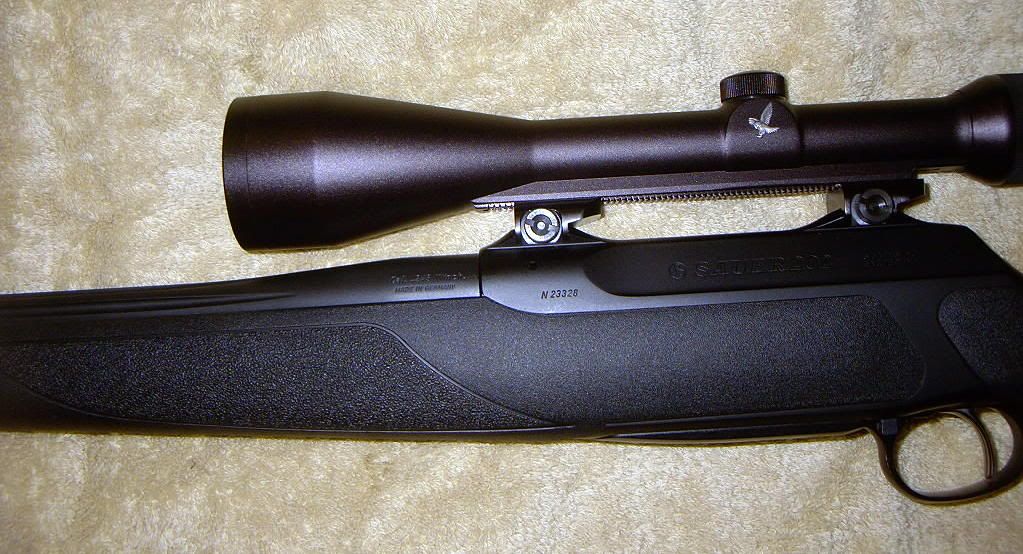 You can see the teeth on the underside of the tube in the above picture. If you don't wish to see them you cut the rubber filler that comes with the scope and press it into place. Once in place you keep dust out of the rail and it makes it look even cleaner and neater. I never used the rubber filler so it's ready to be fitted to your particular rig.
If you have any questions please shoot me a PM here.