Have a like new Swarovski Z6i, 2.5-15x44 SR BT (Rail Mount with Ballistic Turret) for sale. Due to acquiring another Z6i 5-30x50 a couple weeks ago I shifted the 3-18 to the 300 Wby and will not need the Z6i 2.5-15x44 Ballistic Turret with the 'SR' rail mount system and the 4Ai reticle.
I've had this scope for a couple of years and have never hunted with it nor used it on the range. Simply never got that far.... It is crystal clear and a beauty of a scope. IMO it's about the ideal scope for big game hunting. Huge FOV on the low end and enough power on the high end to get the job done. The illumination module works great.
I currently have a Blaser rail mount on the scope and will sell it either by itself or with the mount. I will not sell the mount separate since I'm sure another rail mounted scope will come along one day and I'll need one.
These scopes listed for well over $3,000. EuroOptics has a couple left on clearance at $2849.
I'll take $2300 for the scope plus shipping and insurance. If the buyer wants the Blaser mount I'll include it for $250.00. I also have a set of Swarovski Cross Slot mounts if someone needs to mount the scope on a conventional rifle utilizing Weaver bases. I'll take $125 for the set with scope purchase.
Payment by postal MO or personal check. Check clears before shipping.
http://www.eurooptic.com/swarovski-z...a-i-59468.aspx
http://tinyurl.com/cpkh399
Parallax Correction Factory preset to 50 yd, convenient side-adjust knob 50 yd to infinity Swarotop Coatings Proprietary lens coatings increase light transmission & micro-grooves on the edges of lens elements prevent residual reflections inside the tube for bright, high-contrast images under all lighting conditions. Water & Fog Proof 30mm Nitrogen purged main tube is waterproof to 13? (4.0m) Operating Temperature -4 to 131° F (-20 to +55° C)
(storage temperature range; -22 to +158° f (-30 to +70° C) 6X Magnification Range Zoom range offers both a wide field of view and the ability to zoom in for close-up observation Day and Night Mode Selector Day or night mode selection engages the electronic circuit that switches the reticle on and off automatically for ease of use and battery conservation.
Sixty-four user selectable brightness levels ensure your ability to match the reticle to any ambient lighting situation.
The low-profile illumination module facilitates an unobstructed view over the scope from the shooting position.
Memory function provides locations for one day and one night-time setting to be stored.
Turning on the illumination module restores the previously selected brightness level.
Swarovski's High Grid Illumination technology delivers optimum brightness & sharpness under all lighting conditions. Swarovski SR Mounting Rail The innovative SR (Swarovski Rail) mounting rail system is available on select offerings within the Swarovski riflescope family. Cross-slot mounting bases with matching teeth engage the rail on the underside of the riflescope for a stable, repeatable and dependable mounting solution. By eliminating the need for traditional mounting rings, the SR system eliminates unsightly & devastating gouge marks on your riflescope's main tube.
In order to mount a Swarovski riflescope with an SR rail, you will need to purchase and install a slotted Weaver type rail or bases to your receiver. In addition, a pair of Swarovski Cross Slot Mount Bases must be employed in order to fit the scope to the firearm. This is a precision mounting system and as such a professional gunsmith's skills will be needed for proper installation. (Disagree - simplest system ever made. If you can't do it you need to give up...)
Illuminated 4A-I Reticle in Second Focal Plane and Ballistic Turret The Illuminated 4A-I reticle is similar to a traditional German #4. Three medium weight posts at 3, 6, and 9 o'clock draw your eye to the center and stand out well against dark heavy cover. A single illuminated dot sits upon the intersection of the fine cross hairs to indicate your exact point of aim. Second focal plane positioning of the reticle maintains its size throughout the zoom range.
Ballistic turret: Swarovski's ballistics program enables setting the scope's zero for three separate distances. Proper positioning of the three color-coded disks on the turret provides a quick visual confirmation of your current zero, and the ability to range out to longer distances with ease.
MPN: 59468
•Scope Weight: 21 oz
•Scope Length: 14.13"
•Magnification Range: 2.5x to 15x
•Scope Objective Diameter: 44 mm
•Scope Tube Size / Mount: 30 mm
•Scope Turret Adjustment: .36 moa
•Reticle Position: second focal plane
•Field of View: 48 - 8.1'
•Eye Relief: 95 mm
•Illuminated Reticle: yes
•Scope Finish: black matte finish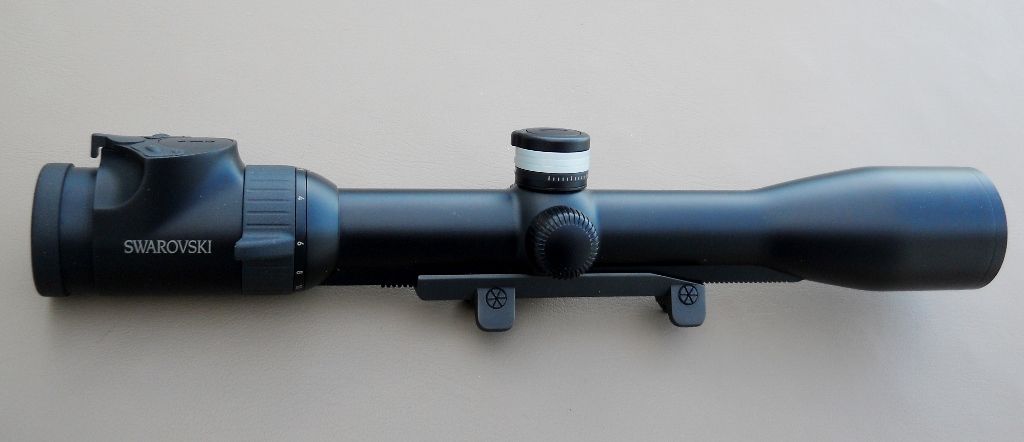 The 2.5-15x44 in a Blaser QD mount on a R8 Jaeger 300 Wby. Put it on the rifle and it's been in the safe waiting to be sighted in. Sure made a good looking combo....

Different scope mounted in the Swarovski Cross Slot QD mounts. Very clean mounting system that mounts on any Weaver or Picatinny base.