I have a very new Leupold Mark IV 4.5-14x50 with the M1 dials and Medium Ultralight Mark IV rings for sale. The scope was mounted on one gun, a SPS Varmint in .243 and was babied significantly. The gun had about 100 rounds through it and I never took it anywhere but to the range a couple of times. The scope comes with original box and ALL of the paperwork including the product registration. The scope was bought earlier this year and also includes the Front and Rear Alumina Flip back scope covers along with the included Leupold Butler Creek caps. I will also include a 2.5" shade with the package. The scope is in excellent shape and has no dings or scratches. You can barely see the ring marks as the rings were lapped for the scope and they really are not visible until you really hold it under the light. Everything is in perfect shape. The scope also has "Live Free or Die" engraved on the bell from Leupold's Custom Shop, for that extra added touch!!
Includes:
Mark IV 4.5-14x50 M1 dials and Mil Dot reticle
Mark IV Medium Ultra lightweight Rings
Leupold Alumina Front and Rear Flip back covers
Butler Creek Flip Up caps
Original Box and all Paperwork
Leupold 2.5" Shade (not pictured)
Please no trades, $900 shipped to your door in the cont. U.S.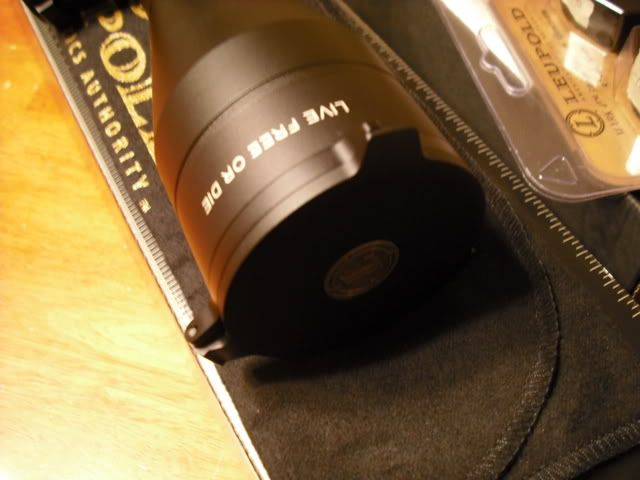 Here are some direct links in case you can't see the pics....
http://i419.photobucket.com/albums/p...htforce008.jpg
http://i419.photobucket.com/albums/p...htforce009.jpg
http://i419.photobucket.com/albums/p...htforce010.jpg
http://i419.photobucket.com/albums/p...htforce007.jpg
Thanks again,