NIIIICCCEE!!
Those mag springs are gonna be toast soon tho, & I'm from the school of "Never putting ALL my eggs in one basket", but who knows, he may have another "basket" just as impressive...
I'm definitely envious. That's an Awesome accomplishment. I think I'd have a warm fuzzy feeling everytime I opened the door to that safe
__________________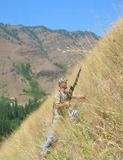 "Its not Rocket Surgery.....'
GOD,GUNS,&GUTTS MADE AMERICA, LETS KEEP ALL 3!winmag
"I have No idea why that cop made me ride in the back seat, when I Clearly called Shotgun!"