The Velcro was a complete waste of time and I REALLY did a number on my stock while I was trying to inlet for the velcro.
It just didn't hold as well as I had hoped it would.
I kind of assumed that it wouldn't hold REALLY well, but I was hopeful that it would have been better than it was.
Back to the drawing board, I finally gave in and decided that I needed a mechanical connection. I batted around the idea of a slotted track system (like a tongue and groove). I was thinking that if I had a metal channel (groove) and a metal slide (tongue), that maybe it would hold up for a long time and still give me the strength and stability that I was after, but I could never settle on the metal components that I had in mind. I ALMOST went to a HVAC shop to have them bend me up something, but figured they would think it annoying.
Sooooo, I finally caved in and went with a plain ol' nuts-and-bolts approach.
Ace Hardware was my one-stop-shop. They had the allen-head bolts, recessed nuts and washers that I was after. I used several different sized drill bits to work up to a hole size that was close to the outside diameter of the washer. For the finishing touch, I used my dremmel with a router-style depth gauge to get a nice finish around the edges of the hole.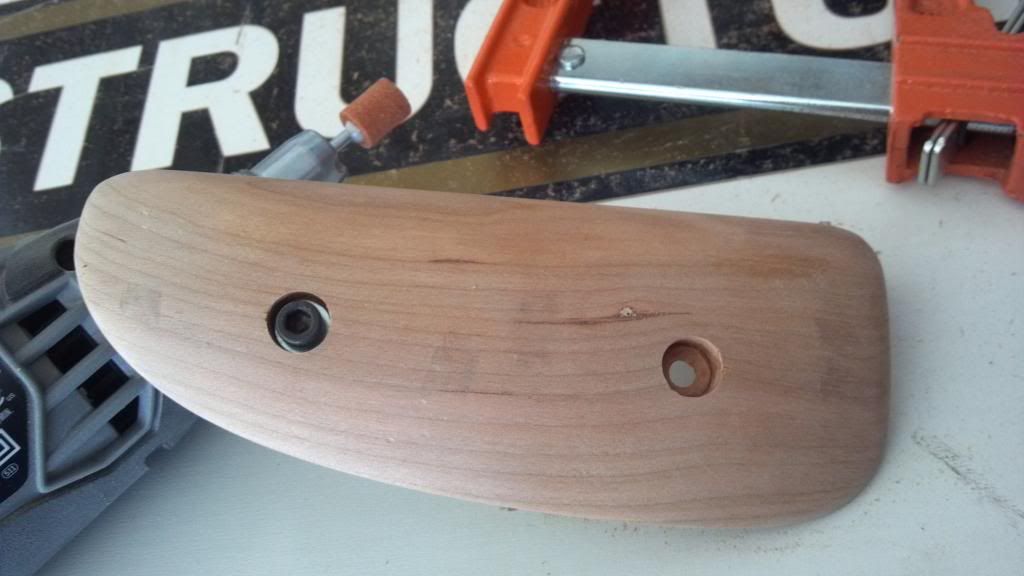 Next I used Gorilla Glue to secure the washers into the wood recess. Next I counter-sank the nut into the stock and secured it, again, with Gorilla Glue.