Re: New Mini Magnum Muscle Brake Threads
---
I've got the old style slabbed Mini on my semi custom 300WSM & could not be happier!

Will the new Mini Mag fit on a factory Winchester spotter bbl? & will any of the bigger muscle breaks fit ? The bigger the better in this case.
It's a factory 24" piped Win-70 XTR chambered in 300WBY that rattles your teeth when you shoot it. It's an accurate rifle, but not enjoyable at all to shoot.
__________________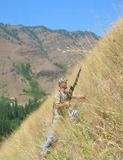 "Its not Rocket Surgery.....'
GOD,GUNS,&GUTTS MADE AMERICA, LETS KEEP ALL 3!winmag
"I have No idea why that cop made me ride in the back seat, when I Clearly called Shotgun!"