Re: Need Gunsmith
---
There's a guy in North Bend (wet side) or Tom & Randy have The Rifle Shop in Bend (dry side).

I don't have personal experience with them, but I've talked to others who have. They seem pleased.

I sent mine to a former LRH sponsor in Oklahoma. Teds Custom shop.
__________________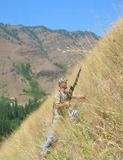 "Its not Rocket Surgery.....'
GOD,GUNS,&GUTTS MADE AMERICA, LETS KEEP ALL 3!winmag
"I have No idea why that cop made me ride in the back seat, when I Clearly called Shotgun!"