DBHUNTER may be able to shed some light on what to look out for before you take it up with your smith.
Rough luck DB, hows your new one comming? Maybe let us all in on the light at the end of the tunnell so to speak.
If it were my rifle with ''no completion date as of yet'' I think I could use all the encouragement I could get, as well as signs to lookout for.
Im looking forward to seeing how this turns out(positive I hope)!
__________________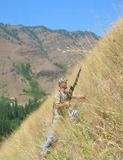 "Its not Rocket Surgery.....'
GOD,GUNS,&GUTTS MADE AMERICA, LETS KEEP ALL 3!winmag
"I have No idea why that cop made me ride in the back seat, when I Clearly called Shotgun!"