Thanks for your comments Roy.
I rode bulls with a Tiffany glove, but my Bareback glove was a Shawn Shields glove & set up, laced & shimmed by him. My chaps were B/B customs. I'm very familiar with the high quality of Shawns gloves, but I didn't know his dad had B/B leather.
I see your point about the need for something unique, & taking the time & risk to develop it into something amazing in order to make your mark, & bennifit your clientele. I can think of a few members/gunsmiths who have been very successfull in doing just that. I truly hope your IWK's take off. I'd like to see your hard work & inginuity pay off. Maybe you'll be the next Shawn Shields of ammo!
Ill carve my own path, & maybe someday ill be in the right place at the right time with the right skills & knowledge to come up with an amazing invention/idea/product like you've done. Your a good mentor Roy, & Pretty even kieled for a nutt
.
I'm glad bigngreen, & I have you to bounce our ideas off of. You truly are one of a kind. Thank you for your advise.
__________________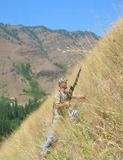 "Its not Rocket Surgery.....'
GOD,GUNS,&GUTTS MADE AMERICA, LETS KEEP ALL 3!winmag
"I have No idea why that cop made me ride in the back seat, when I Clearly called Shotgun!"