Re: 338 custom
---
The Predator Xtreme and TAC 338 actions are the same except for the colors. Both have a 1-1/8 thread diameter. With a barrel shank of only 1.225 that would only leave you with .05" per side of shoulder. I'd want more than that, especially for a large magnum. I prefer a minimum barrel shank of 1.3" for this size thread. Either of these actions can be had in a single shot or repeater. A Remington 700 scope base will not fit these actions. They are 1.450" diameter all the way back. You would need a scope bases from Stillers or have a custom one made up.



Hello,
My name is Logan and I am considering using a Stillers predator extreme or tac 338 action for a custom rifle in 338 lapua or 338 allen xpress and had a couple of questions. Will either of these actions accept a barrel with a shank diameter of 1.225"? Will this size barrel leave enough of a shoulder to properly clamp the recoil lug in place? Can either of these actions be had as a singleshot? Lastly do rem 700 picatinny bases fit these action.
Thank you for your time.
__________________
Home of the "EXTENDED IMPACT" DVD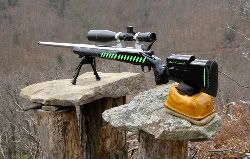 www.mcrifles.com