Well after getting motivated by several posts here on Marlins, Savages, etc. getting retrofitted into airsoft rifle stocks and talking not only through the threads but PMs also to those that have done it, I was impressed, intrigued and committed to dropping a rimfire into one.
I had a CZ455 Varmint on order, and thought they both would compliment each othe with their styling, so I purchased and had the stock in my possesion long before the rifle arrived.
I chose a Wells G-96 folder for a few reasons. One, it was the model others had used, and I didn't want to take a risk in getting another that didn't have the aluminum skeleton. Perhaps they all have them, I don't know squat about airsoft other than they are usually a replica dimension wise to the rifle they are decoying.
Two, it had other nice features: a removable magazine that housed the pellets and air resivoir (actually quite heavy), the butt stock monopod (probably will not use it, but hey it is a feature), it folded for compactness, it has the magazine well situated in the "right place" to match up with the action of the rifle without having to cut more plastic, the forestock has the bipod / handstop rail cut out. It is also adjustable for length of pull via spacers, and sports a pretty nice rubber butt pad. It also has an up and down, side to side adjustable cheek rest and is thumbscrew loosening and tightening for height only. Side to side is achieved by allen wrench. A large barrel channel ensures a free float of the barrel.
Third, it actually comes with a quick detachable 3 sided rail where the traditional AICS bipod attaches. Though I will be using a harris in a more customary sling stud mounting, the tri rail is still an added feature for pest removal at night with a light. The bonyard variety had the bipod missing, but that's ok as the quality of it may be questionable.
From researching, the only 3 airsoft rifles that have those features are the Well G-96 around $250.00, G&G armament between $350.00 - $450.00, and a Tanaka around $450.00+. But if you are patient and search, you can pick up a Well G-96 in the "airsoft boneyards" (inoperable rifles for parts) on many airsoft suppliers. I had picked mine up for $99.00. Just by using price as a comparison, I take it those three are of a higher quality than others. Many of the others range between $25.00 to $75.00 in the boneyards.
Moving on, I have to say to my surprise I was really shocked and delighted to find the quality of the Well G-96. A VERY heavy stock / rifle with tons of features, a pretty comfy stock that is dimentionally a duplicate of the real AICS folder Real on top, airsoft on bottom). Only difference I can notice is the shroud that goes around the bolt handle cut out:
A quick picture of the magazine and well. My plan is to use the magazine for "looks" and to also hide the 10 round rimfire magazine once the internals of the airsoft magazine are removed. I chose to use a 10 round magazine as it will be easier to reload / grasp reaching into the magazine well cavity when the CZ goes in. The internals are easily removed and the bottom plate of the magazine slides off, allowing access to the real magazine underneath, or if not interested in keeping the high capacity centerfire look, the airsoft magazine can be removed.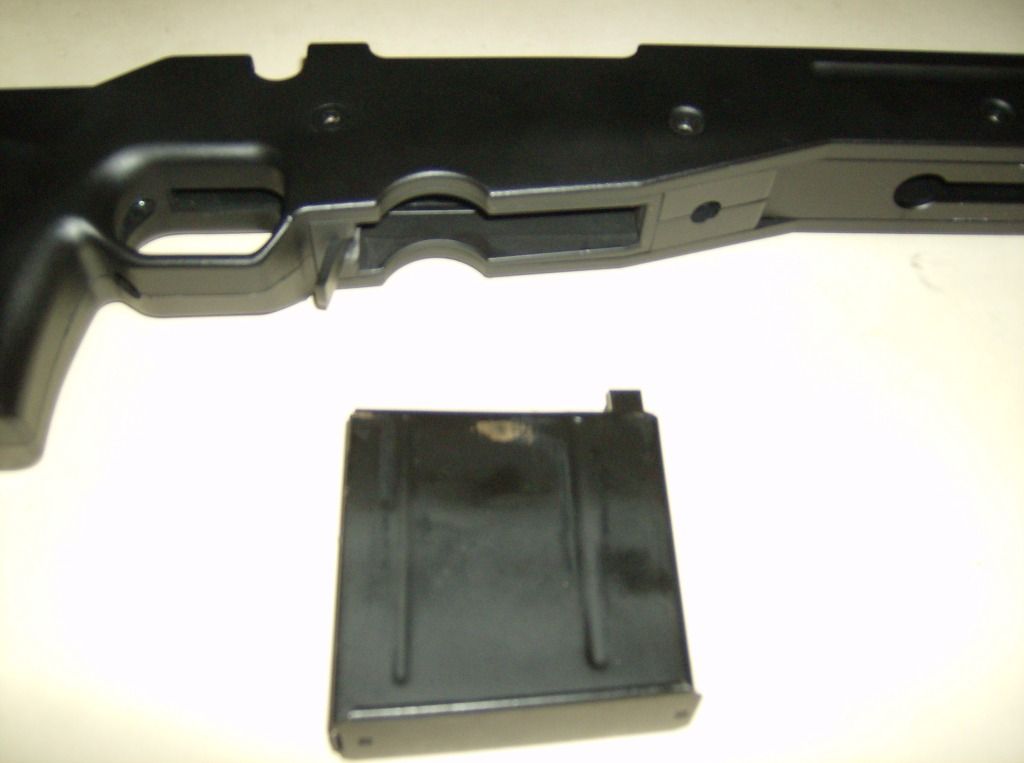 For the price, when compared to say a "tacticool" stock, I began to think that this was the better way to go. So then I took it apart, the grip area shows pins that help hold the "clamshelled stock" together and give it more rigidity. Also a view of the bottom forestock, and a top view of the inlet.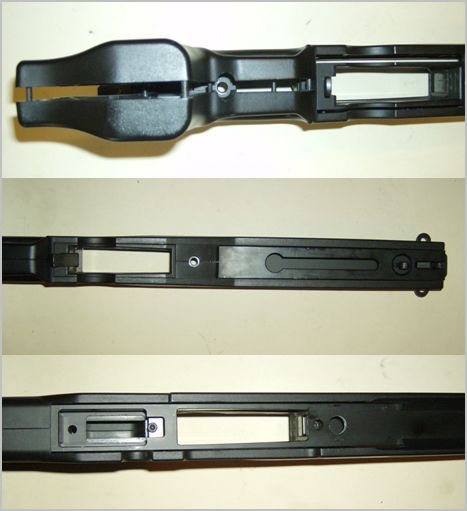 The 2 sections articulate on a pinned hinge, 2 set screws loosened and a few taps of the pin had the sections seperated. The two sections felt more solid than I had expected, but still had a little play in it. Once removed, I took black electrical tape and wrapped both the hinge mechanisms where it inserts into the square aluminum skeleton once with black electrical tape to act as a shim. When put back together the "slop" was greatly reduced and improved the rigidness once the stock was locked into the open position.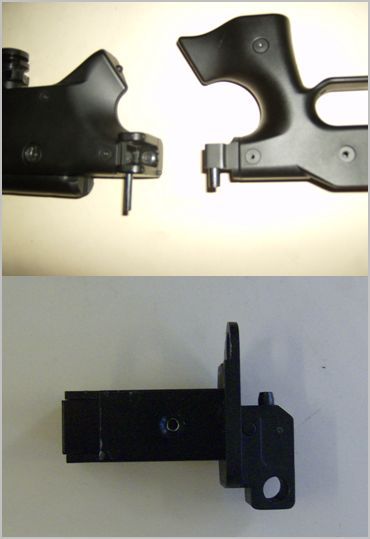 An exploded view shows that this stock does have many parts. You can see that ther is a square aluminum skeletal frame, if you are curious enough to break it down this far, take pictures and notes to make sure you can reassemble it.
I was very impressed by the skeletal system and other attachments considering the original use of the stock. The sling attachments in the front and rear did rattle a bit, so I used the electrical tape method mentioned earlier to deaden the noise, and followed up by doing that shim technique to all adjoining parts in the skeleton.
Once I continued with putting the rifle in the chassis (the actual install will be posted later) I realized a few things that actually make the stock stiffer, and felt confident enough that it would handle .17 hornet, .204 ruger, and a .223. Maybe even a .243, and possibly a .308. If you do take it apart to this extent, use loctight on the reassemble, be careful too not to strip out any screws as they are a bit on the chimsey side.
There are 2 bedding blocks that slide inside the square chassis that would be able to be used to shim and solidify the action spacing of many different rifles (further detail in the install post).
All in all, surprisingly a very good stock for what I paid for it ($99.00) and glad that I went on with the project. I didn't feel that it was a toy or a piece of junk that a rifle is screwed to, and will be searching for another stock for another rifle. If I were to do it again, I probably would have looked for a non-folding one as I'm sure it would be more rigid, but no real regrets of carrying on with the folder.
After a little simple fitting with basic tools, some basic mechanical ability, a few hardware items and a weekend, the AICS airsoft stock for a rimfire conversion gets a thumbs up so far without a performane test of the rifle.
There will be an upcoming post on the install (which looks and feels great by the way) but first I want to do a range report of before and after the install to see if the Airsoft stock added, lessened, or there's no change in consistancy / accuracy of the rifle itself.
Stay tuned, To be continued.