Re: 10-22 build
---
I built one with a Butler Creek kit with awesome results. Haven't hered of a Nordic kit. 10/22's are an absolute Riot to build, & very very adicting!
Good luck.
__________________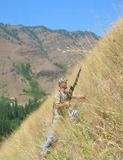 "Its not Rocket Surgery.....'
GOD,GUNS,&GUTTS MADE AMERICA, LETS KEEP ALL 3!winmag
"I have No idea why that cop made me ride in the back seat, when I Clearly called Shotgun!"