Hi all,
In late March I was able to take some leave from my job in the 'desert' (Dubai) and head back to New Zealand to see family, friends, and knock the rust out of my varmint rifle. The below ("web page") link relates to my previous exploits on the same farm land a year ago.
web page
March 2007:
Top of mind was seeing where the local rabbit, hare, and magpie population had got to in the 10 months I had been away. My first few days back were cold and showery. But I wasn't going to let that stop me! My favorite shooting spot is in the corner of a field that overlooks a valley below. A quick glass told me the wildlife wasn't about to let me down. Two rabbits and a hare in the same general area. I decided to go for the biggest and most distant target first - the hare at 325yds. Eleven clicks up from my 200yrd zero, then time to see if I could still shoot. The thud of the V-max hitting home said it all. Fantastic! my rifles zero was completely unchanged after ten months in storage. Full marks to Nightforce too! The two rabbits at 300 and 275 yards resounded with the same thuds soon after (its great how rabbits just sit there). Then it was time to see what else was around. A ten minute wait and a 90 degree shift in shooting position had me settling the crosshairs on to a 300 yd magpie directly across the valley. Shooting with a 1.5 MOA adjustment into the wind, again no problem!
Another three rabbits and two magpies were taken from this spot at similar distances over the next two days.
Can't wait to do it all again next year!
The 'Range' (Note the moos are well! below the line of flight)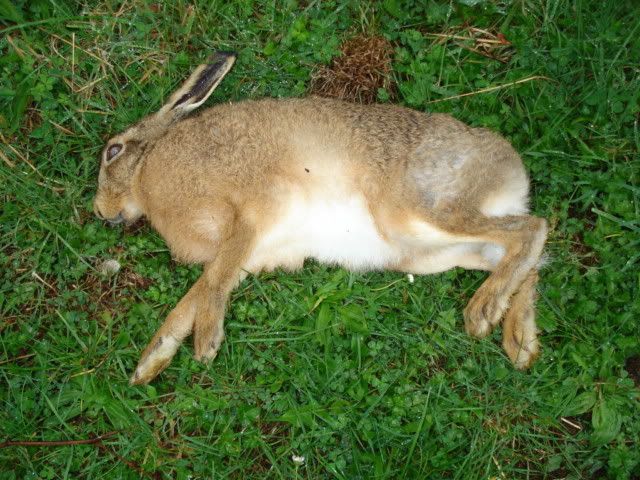 Hare (from the tidy side)
Rifle Details:
Remington 700 LTR, Re-barreled in 6BR (True-Flite barrel), 1:10 twist, 27inch, Vais muzzle brake.
Nightforce 5.5-22x50 scope. Nightforce base and rings.
Shooting 87grain V-max at 2990 fps using 31grains Varget (ADI AR2208)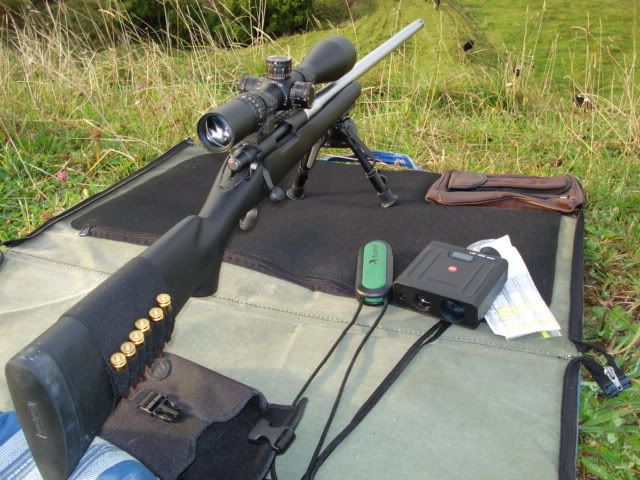 6BRBB
glen_kiwi_nz@yahoo.com